Judge Kavanaugh's Father Was President Of The Personal Care Products Council For Two Decades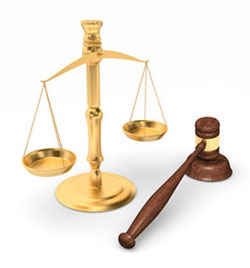 The PCPC was instrumental in keeping the cosmetics industry self-regulating and shelving more accurate talc asbestos testing methods
Wednesday, May 26, 2021 - An interesting twist to yesterday's Supreme Court decision not to hear Johnson & Johnson's appeal is Supreme Court Justice Brett Kavanaugh's reason for recusing himself from hearing the case. Justice Kavanaugh's father, E. Edward Kavanaugh, served as the president of the Cosmetic, Toiletry and Fragrance Association (CPCP), later renamed to become the Personal Care Products Council (PCPC), a highly influential group attached to the Food and Drug Administration, for nearly two decades during the 1970s and 80s, according to Wikipedia. Edward Kavanaugh allegedly was influential in the FDA's decision not to force the cosmetics industry to implement stricter talc asbestos testing methods and to keep a cancer warning label from talc-based baby care product Johnson's Baby Powder. The Associated Press told readers, "E. Edward Kavanaugh, who was the longtime president of the Cosmetic, Toiletry and Fragrance Association and is the justice's father. Kavanaugh's group fought efforts to list talc as a carcinogen or attach warning labels to talc products. Kavanaugh is retired and the group now is called the Personal Care Products Council." Visit talcum powder cancer lawsuit to learn more.
It is alleged that the PCPC fought to allow the cosmetics industry to remain self-regulating and also prevented the FDA from implementing talc testing methods that would have revealed asbestos. Instead, the group accepted talc miner's designations of talc as being "cosmetics grade" because it contained only trace amounts of asbestos. Experts have known for decades that there is no safe level of ingesting asbestos and a microscopic particle can cause asbestosis, mesothelioma, and cancer. A Reuters investigative report titled "Johnson & Johnson knew for decades that asbestos lurked in its Baby Powder," criticized the CFTA for stonewalling efforts to implement more effective and stricter asbestos testing methods for the cosmetics industry. Reuters discovered, "In 1976, a CTFA committee chaired by a J&J executive drafted voluntary guidelines, establishing a form of X-ray scanning with a 0.5 percent detection limit as the primary test, the method J&J preferred. The method is not designed to detect the most commonly used type of asbestos, chrysotile, at all. The group said the more sensitive electron microscopy was impractical." Getting to know more about the activities of the group could shed light on why Johnson's Baby Powder containing asbestos-contaminated talc remained on the market for over half a century after the company acknowledged in company memos that they had an "asbestos problem."
Legal experts agree, now that the Supreme Court has denied the appeal option, Johnson & Johnson may be pressured to step up attempts to settle with large blocks of plaintiffs at a time. The company tested the settlement waters last year and agreed to pay one thousand ovarian cancer victims a total of $100 million. The amount was far less than if they had tried each case separately and lost. More than 30,000 plaintiffs have filed against Johnson & Johnson for causing ovarian cancer and mesothelioma. Johnson & Johnson discontinued selling Johnson's Baby Powder with talc in North America last year and replaced it with powder made from cornstarch which is just as smooth, just as absorbent, but costs a little more.
---