Johnson & Johnson Defends Against Talc Asbestos Allegations in Virtual Trial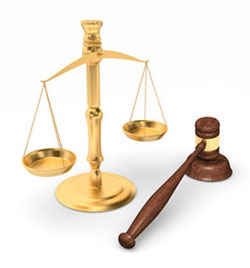 Many states are giving civil litigants the option of having a relatively speedy virtual trial via Zoom rather than wait because of the Covid-19 delays
Wednesday, June 2, 2021 - Lockdowns, social distancing, and mask-wearing have changed the physical landscape where we work and play. Nowhere are the societal changes that have been forced upon us more evident than in the court system. Coronavirus lockdowns have caused a backlog in trials and plaintiff attorneys are urging grouping multiple plaintiffs that have highly similar cases. Twenty-two plaintiffs were grouped pre-pandemic in a 2018 Johnson's Baby Powder cancer trial where a jury awarded over $2 billion in punitive damages. The case is currently under appeal to the US Supreme Court. Attorneyaswork.com describes the remote trial situation accurately by telling readers that litigants are now given a choice to accept a remote trial or go to the back of a long line. Courts are struggling to perfect "remote proceedings to continue their essential operation," in a remote environment. A recent virtual trial involving asbestos-contaminated cosmetic talc ended with a mistrial when the plaintiff, suffering from the advanced stages of mesothelioma, became too ill to communicate with his attorneys and went into hospice care. He was not expected to live. Visit talcum powder cancer lawsuit to learn more.
Johnson & Johnson once again finds itself a defendant in a unique courtroom setting, this time in Seattle, Washington where a virtual trial is underway pitting 59-year old former teacher Wendi Hirshberg against Johnson & Johnson. According to Courtroom View News (CVN), " A Washington state court jury heard opening statements Tuesday in a remotely-held jury trial involving claims that asbestos allegedly present in Johnson & Johnson's cosmetic talc products caused a woman's fatal cancer." The crux of the trial centered around her life-long use of Johnson's Baby Powder and developing mesothelioma, a rare disease affecting the lining of the lungs, and the signature disease of inhaling asbestos. Hirschberg's attorneys allege that the plaintiff had no other known contact with asbestos in her lifetime and that Johnson & Johnson knew as early as 1971 that their talc mines contained asbestos and that there was no safe level of asbestos inhalation. Despite that, the company decided to continue to market Johnson's Baby Powder to unsuspecting mothers for decades as safe, pure, and asbestos-free. Hershner's attorneys told CVN, "We are not judging them on what they know today but what they knew for the decades that Wendi used their product,' Dean said. "And what they knew by 1971 is that asbestos was in their mine, they couldn't get it out, and healthcare professionals said not one fiber is okay."
The virtual trial option is offered to plaintiffs in several prominent states like California, Michigan, and New York. Each court is trying to come up with standards for conducting the trials. More than 25,000 people have filed suit against Johnson & Johnson that using Johnson's Baby Powder has caused them to develop ovarian cancer or mesothelioma. Johnson's Baby Powder cancer lawyers are interviewing potential plaintiffs injured by using the harmless-sounding baby care product.
---